Adirondack chairs are rather iconic and you may be wondering exactly where they originated. Your first thought would likely be the Adirondacks, but surely the region didn't spontaneously grow these chairs among the trees. Today, we'll take a brief look into the history of these chairs and how they became the modern Adirondack chair that we see so often today.
The Adirondack chair is an iconic representation of the Adirondacks, a mountainous wilderness in northern New York, located 4 hours north of Manhattan and 2 hours south of Montreal. Its design was intended to accommodate this region back in the early 1900's and was so successful in doing so that it continues to be used to this day.
This legendary chair's history can be traced back to the inventor, Thomas Lee, a Massachusetts native, who frequently spent summers at his family home located in the Town of Westport, NY. Lee came from a wealthy family and he, himself, was rather successful having graduated from Harvard. He later dropped out of school after realizing that he would rather spend his time living and working in the beauty of the Adirondacks. It was because of this longing to be surrounded by nature that he first thought of an idea for the chair.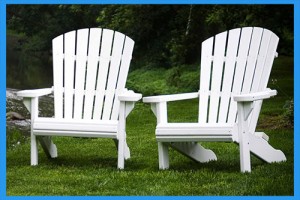 Treated Pine Adirondack Chair
One summer, he opted to invent a chair that would be adequate when it comes to handling the rugged terrain of the landscape. He took certain factors into consideration when developing his chair that would enable it to be used while enjoying the Adirondacks. Lee thought that the chair should be well-balanced, sturdy, and comfortable no matter what type of ground it was placed on.
Lee spent 3 years developing his chair from 1900 to 1903 after creating multiple prototypes and receiving feedback from his family before making adjustments. At some point during this time, he created a design that he truly felt exhibited all of the qualities that he longed for. This chair had a high back and slanted seat, which were made from single pieces of wood, as well as wide armrests.
After developing his chair, Lee sought his hunting friend, Harry Bunnell, who owned a carpentry shop in Westport. Lee knew that Bunnell was concerned about the upcoming winter due to a lack of resources and offered his chair design to help alleviate Bunnell's worries. Lee thought that his chair design might increase the business at Bunnell's carpentry shop- and it did.
Bunnell built and sold these chairs to the surrounding community, which were eager to buy. He later modified the design to make it slightly narrower and then patented this new design in April 1904. Lee was approving of Bunnell's modification and patent because he had no interest in the chair business and was already rather wealthy. Lee was actually more focused of the bottling and delivery of mountain spring water from the Adirondacks at the time and was quite satisfied that his friend was finding success with the chair.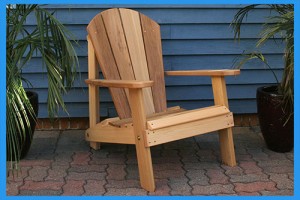 Red Cedar Southern Wide Slat Adirondack Chair
Bunnell continued with the chair and over the next 20+ years, became rather sought after for it. His chair was popular because it indeed checked the boxes of comfort and durability. As time went on, more adjustments were made to the chair and it became more recognizable to the Adirondack chair of today.
The modern Adirondack chair underwent a few more changes due to the difficulties of mass production of the original Westport chair. Different carpenters looked for ways to create identical versions but found that attaining single, knot-free planks for the seat and back was extremely unlikely. The solution to this problem was to create a variant of the Westport chair that had some changes but followed the same concept of design. These new chairs were simply named "Adirondack Chairs" due to the region in which they were developed. Both Westport chairs and Adirondack chairs have wide armrests, high backs, and slanted seats, but have one major difference. The backs and seats of the Westport chair were made from single, knot-free planks, while the Adirondack chair's back and seat were composed of multiple slats of wood that lined up and were easier to construct.
The most common version of the Adirondack chair that we know today was actually developed in 1938 by Irving Wolpin of New Jersey in 1938. He modified the design and patented it describing it to be a lawn chair. His chair featured the slanted seat with wide armrests, but had a contoured seat and rounded back. This version is the most replicated Adirondack chair to date.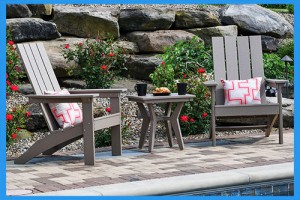 Stationary Adirondack Chair
Although the chair has changed in many ways and now has many variations in color, style, and material, the Adirondack chair can be traced back to the clever design of the Westport chair originally developed by Thomas Lee. Today, the Adirondack chair goes by different names, like the Muskoka chair in Canada, and even has variants that fold or operate as benches, but ultimately, the Adirondack chair was simply meant to be the perfect chair to appreciate your surroundings no matter the terrain.
If you're looking for an Adirondack chair, Fifthroom.com is the perfect place to start. We have many different types that not only pay homage to the original design, but also maintain the intended comfort and durability in inventive new ways. Visit Fifthroom.com to learn more!