Gazebos are beautiful outdoor structures that can really create a distinguishing impact on your outdoor living space. If you think that you may want one and are looking for some guidance on what the first steps are, you've come to the right place. Today, we'll be discussing some of the things to consider when planning for a gazebo. There may be concepts that you haven't considered as well as highly useful information that would be necessary when talking with a manufacturer.
The first thing that you'll need to understand is what a gazebo actually is. A gazebo is a structure used for relaxation, entertainment, or a decoration. It is usually placed outdoors and is a structure that comes in a variety of shapes and sizes. The gazebo is often free-standing but can also be attached to other structures. It has a roof and can be enclosed with railings.
When considering to build a gazebo on your property, there are some outside factors that you'll need to acknowledge. You may be able to build a very simple model of a gazebo that has no footings or foundations without any outside considerations, but it's unlikely that you'll want to invest in such a simplistic structure. For a quality gazebo, you will have to do some diggings, and because of that, you will want to get in touch with your utilities company. You may call them directly or try the "Call Before You Dig" line for brief assistance. It is in your best interest to make sure that the utilities company is informed on your decision. You may be legally obligated to take these steps, so do not neglect them. There are opportunities to damage gas lines and phone cables when digging, and if you were not authorized by a utilities company to do so, you may be subject to legal consequences. Calling a survey company to review your site and any potential underground obstacles other than utility lines is also a wise decision.
Permits also may be required in your area. Arguably, a gazebo may not be considered a building due to the lack of walls, and if so, your local permits may not be a concern. Out-Buildings smaller than 10' x 10' may also be exempt from a permit, but the structure may be smaller than you would have liked. Talking with your municipal or council office is definitely on the to-do list, but be sure to prepare some rough sketches of its size and location as well as a description of its purpose.
Next, you'll want to ask yourself a few important questions about what you want your gazebo to be used for. Since, purchasing a gazebo is a serious matter and impacts the value of your property, you'll want to carefully consider the various details that make it up. Gazebos come in a variety of shapes, sizes, colors, and building materials, so narrowing down those choices before you begin the process of customizing your own can greatly improve the outcome. Being able to articulate the certain features of your ideal gazebo also helps the manufacturer figure out how to assist you.
The first thing to consider before making the purchase is the gazebo's function. Why do you want one? Are you looking to have a gathering there, hideaway inside by yourself, use it as a decoration, or perhaps, consider it as an additional room to your home? By figuring out what your gazebo's purpose will be, you'll be able to decide on other important factors like size and location. And later, you'll have a more thorough understanding of what options you'll want to select in regard to materials and additional features.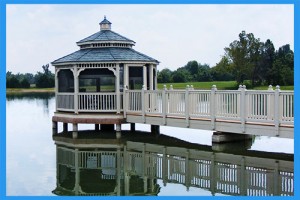 After you define the function of your gazebo, you'll want to take a walk around your property to determine the best location for it. Gazebos are structures built on flat surfaces, so if you're looking to build one, finding a flat area or creating one is mandatory. If you have a flat foundation surface big enough to place a gazebo on, or if you're willing to create one, you will want to consider the material that the foundation is made out of. Make sure that it's strong, long-lasting, and truly an ideal place for a gazebo. You wouldn't want to put a structure on top of something that ultimately won't support it. Gazebos are usually built on top of concrete or wood foundations, allowing them to be built on structures like decks.
You may search your property for the perfect place to put your gazebo, but sometimes, the most available place is not the most practical. If you have the space to consider many options for your gazebo location, you may want to assess what kind of attention your gazebo may get in a particular setting. Since gazebos are stunning structures, they are often made the focal point of a property. If a function of a gazebo is to host guests for a wedding or a reception, it is likely that the structure would be centered in a certain outdoor space. Guests will want to experience the statement made by the gazebo as well as easily locate it.
Shaded areas are also ideal for gazebos when they their function is meant for more casual purposes. Children may spend a lot of time at a gazebo and they may enjoy it more when it's surrounded by trees and shrubbery. Gazebos meant for use by a pool may be intended to give sunbathers a place to cool-off and may function better in a shaded area. Recreational gazebos used for cooking or hosting may also benefit from being built in a shaded area.
Alternatively, gazebos may be used as an out of the way destination. They can be hidden or placed into a corner of a yard. Garden gazebos often fit into the theme of the garden and are meant to embellish it as opposed to outshine it. Gazebos can also be hidden if their purpose is simply meant to house an activity such as sitting in a hot tub.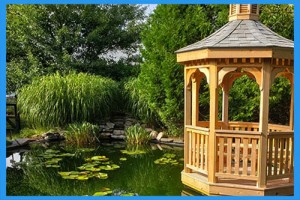 Incorporating a gazebo into another structure on your property is also an option, but may take extra consideration as well as a thorough understanding of potential challenges and opportunities.
When determining a final location, functionality is key. Understanding what your gazebo is meant to do as well as where it would best be located can now help you select the options of the structure.
Some of the options available during the process of customization are contingent on certain specifications of the gazebo. The size and shape of the structure are often dependent on one another, as are certain options in regard to build. Before deciding on the size and shape, you may want to address the material in which your gazebo is constructed.  Your choices come down to either wood or vinyl, but it can get a little more complicated from there.
When selecting a build, the gazebo's colors, shingles, and stains, all play a role. You will want to ask yourself what your preferences are in terms of look and maintenance. The function of your gazebo may also help you make the most adequate selection.
If you consider selecting a gazebo made of wood, you can expect it to look traditional and rustic. Wooden gazebos are also cost-effective as well as sturdy, but require more maintenance with the need for yearly staining and weather treatments. Wooden gazebos come in a variety of different types of wood as well, including pine, cedar, redwood, and even bamboo. With consideration as to what type may best meet your needs, you may also want to research the environmental impact of each type of wood, durability, longevity, color and grain, and overall value.
Wooden gazebos do have an advantage that vinyl gazebos do not. Their appearance can be altered by means of painting and staining, so they are more versatile in their ability to acquire a certain look. Unfortunately, wooden gazebos require extra care in maintaining their color, and also have a tendency to warp, rot, and suffer due to natural conditions.
Vinyl gazebos do offer the key benefit of being maintenance free, only requiring an occasion power wash. There is no need to stain, treat, or seal vinyl and it can withstand almost any climate. Because they are made of vinyl, these gazebos have a limited selection of colors and styles, though they are widely accepted as an ideal look. These particular structures are also more expensive to produce but require less care to maintain.
If you're having trouble figuring out which type of build you'd prefer for your gazebo, you may want to weigh the benefits between them. Wood is more affordable, gives a greater variety of options in regard to color and appearance, offers a natural, genuine, and aromatic appeal, but also require yearly maintenance. Vinyl cannot be altered, is more expensive, but doesn't need much care after the initial construction.
Once you've decided on what type of material to construct your gazebo out of as well as the location in which you plan to put it, you'll want to think about its shape. When selecting a shape, the purpose of your gazebo also plays a role. Though, the shape may not be the most important feature of your structure, it definitely can have an impact on how practical it is.
Shape may be dependent on the size of the gazebo, and likewise, the size may be dependent on the shape. The most common shapes for gazebos are oval, rectangular, octagonal, and dodecagonal but can also be elongated.
If you have a vision in mind of how you might expect your gazebo to be shaped, you'll next want to consider its size. The purpose for your gazebo generally determines how much space you think it should provide. If you intend for it to be a personal structure, you may not want it very big. But for gazebos intended for gatherings, to house furniture, hot tubs, or the like, you may want to choose a larger structure. The smallest gazebos are generally 6' x 6' and may have fixed shape options. The largest gazebos may be 20' x 40' and is available in shapes such as ovals, rectangles, dodecagons, and more.
After determining the shape and size of your vision, you'll want to consider details such as roofing, flooring, and railings. Fifthroom.com has the Award-Winning Design Wizard that can assist you in mapping out these options at ease. It displays the various features for you so that you can see what all the components look like together.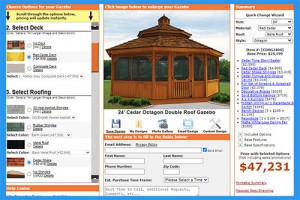 Depending on your type of build, whether wood or vinyl, the options may be numerous or few. In terms of customization, wood gazebos give you the most flexibility. Vinyl has a much more limited selection.
When selecting what type of roofing your gazebo will have, you'll be able to better envision what the final product may be. Typical styles of gazebo roofing include a single roof, double roof, belle roof, gable roof, and long gable, among many others.
Selecting shingles to go on the roof is also an important step. There are standard shingles, wood and rubber shingles, as well as metal roofing. Typically, asphalt shingles are standard, but cedar shakes, rubber slates, and metal roofing are also acceptable options. These types of shingles all come in a variety of colors and offer a unique characteristic to the overall outcome.
Flooring may include red cedar and composite decking. Each material has different benefits in regard to the purpose of your gazebo.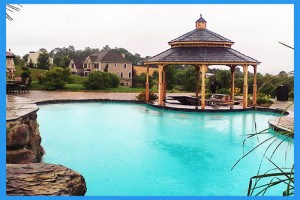 Railings are also a distinguishing feature of a gazebo. You may choose to not have any railings at all and create an open space that oversees your property or you may choose to create a sheltered hideaway. When selecting railings, you'll discover that they tend to match the material in which your gazebo is constructed. Wood railings will match the build of a wood gazebo just as vinyl railings will match a vinyl one. There are options for both top and bottom railings available.
After determining the fundamental features of your gazebo, you may want consider the benefits of additional features like an electrical package or custom furniture. These additional considerations may change the functionality of your gazebo drastically. If you utilize the electrical package, your gazebo will be much more operational with the ability to power technology by use of outlets, switches, wiring, and connections.
Fans can also be incorporated into your gazebo design as well screens, runners, and braces.
When you're ready to order yours, you'll want to talk with a representative who is familiar with the innerworkings of the requirements and processes of building a gazebo. You may opt to build your gazebo yourself or you may have reputable installers come and take care of the labor. Gazebo kits come with directions and aren't meant to be overly complicated, but it is a wise decision to have trusted individuals assist you in the process. Understanding construction and having the strength and capability to lift heavy objects is also necessary in building the structure. It may take anywhere from 5-10 hours to finish its construction, but your gazebo is worth the effort.
Researching what the permits and requirements are in your area in regard to building a gazebo is a good first step, as is considering who you may need to get in touch with, like your utilities company, a surveyor, and municipal or council office. After thinking about what the function, location, materials, and details of your gazebo may be, you're ready to start drafting your vision. Using Fifthroom.com's Award-Winning Design Wizard, you can customize size, shape, materials, and features and find what works best to bring your vision to life. Submit an inquiry and one of Fifthroom's project managers would gladly navigate you in the right direction as well as set you up with your dream gazebo. Remember to ask questions. Understanding the process of building and maintaining this structure is crucial.
If you've been putting it off due to uncertainty, fear no more. Fifthroom has the knowledge, expertise, and supplies you need to bring your vision to life. Check out www.Fifthroom.com now!