Bridges are rather magical things. They are, at once, extremely practical yet aesthetically pleasing. They allow you to go from "Point A" to "Point B" and, without a bridge, you probably couldn't even reach "Point B!" Bridges are the stuff of sweet childhood memories . . . "London Bridge is falling down, falling down" is a standard nursery song and bridges are evocative of love and romance — "The Bridges of Madison County," anyone? At Fifthroom.com, bridges are a specialty of ours and we have many beautiful bridges which will enhance your landscape and bring a bit of magic into your life.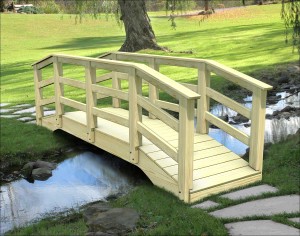 Our Pedestrian Bridges are available in kit form or can come to you fully assembled. One popular choice is our Treated Rope Rail Bridge which is constructed of treated pine and white cedar and can be customized in a wide variety of sizes. We also carry Single, Double or Triple Rail Bridges which are available in cedar, treated pine, highwood or vinyl. Made in the USA, these bridges can be customized to the exact size you need.
If you prefer a "no rail" bridge, no problem. Just like our rail bridges, our No Rail Bridges are available in cedar, treated pine, highwood or vinyl and shipped in an easy-to-assemble kit. You'll be so pleased with the strength, beauty and quality of these No Rail Bridges.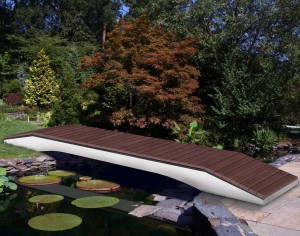 Our Straight or Turned Spindle Rail Bridges are especially popular with customers who have been kind enough to share their comments with us. Like our other bridges, our Spindle Rail Bridges come in cedar, treated pine, highwood and vinyl, are beautiful yet durable and can be shipped to you within 14 business days.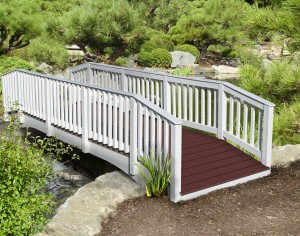 All of our bridges are Made In The USA and are built with Fifthroom's enduring commitment to creating a beautiful, top quality product which will last you for years and years to come. Go ahead — It's time to cross over to a better bridge from Fifthroom.com.