Cedar chests, sometimes referred to as "hope chests," have a fascinating history. The hope chest was brought to America by waves of European immigrants in the 18th century when marriage included an exchange of property between families. Handmade chests were given to young women in preparation for their eventual marriage and brides-to-be filled them with treasures such as special occasion dresses, linens, blankets and, in many cases, pieces of family silver and china.
Traditionally, these chests were constructed of cedar. The wood's ability to repel insects and protect fabric made it the natural choice. Today, chests are still made of cedar but also come in a variety of other hardwoods such as cherry, oak and maple. At Fifthroom.com, we're well known for our large collection of beautiful chests which are an amazing combination of form + function, since they are both practical (great for storage!) while also being a beautiful piece of furniture.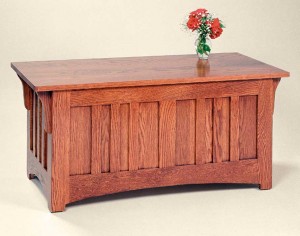 The Springmill Cedar Chest, constructed of eastern red cedar, will become an instant family heirloom in your home. This cedar chest includes seat rails, decorative doors and drawers and gleaming brass handles. Truly a one-of-a-kind chest which you and your family can use and enjoy for decades to come!
If you love the warmth of oak, the Mayflower Oak Chest will be perfect for you! Handcrafted from 100% solid oak, it's designed with raised panels on all sides, stained to your specifications with one of 12 finishes and is finally lacquered twice for a luxuriant finish.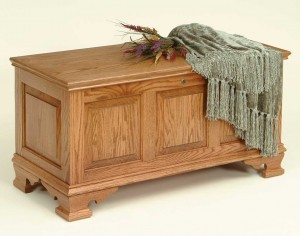 Start a new family tradition with our beautiful Rose Garden Cherry Chest. 100% solid cherry and handmade with Old World craftsmanship, this chest makes a dramatic statement in any room. Choose the size, (standard or large) select one of 12 beautiful finishes and, before shipping, we'll seal your chest with a double coat of lacquer to keep it beautiful and protected.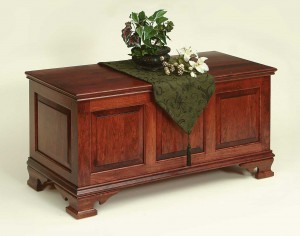 Hope chests still occupy a treasured spot in today's American homes. Most commonly used at the ends of beds to store sheets, extra pillows or blankets, they have more recently been repurposed as toy chests — a beautiful alternative to plastic toy bins!
A chest from Fifthroom.com will be a treasured addition to your home and can also be the perfect birthday or holiday gift for a special someone. But, don't delay! These amazing beauties are truly one-of-a-kind and take a bit of extra time from ordering to delivery. Get yours today from Fifthroom.com.