If you're in the process of designing your yard you are probably looking at outdoor structures. These structures can provide shade, entertaining space and beauty to your property. However if you have just begun to suss out your options, it's likely that you are not quite sure of the difference between a ramada or pergola. On a very, very basic level, a pergola is a structure composed of posts and an open roof which is designed to accommodate climbing vines. A ramada is more of an outdoor room.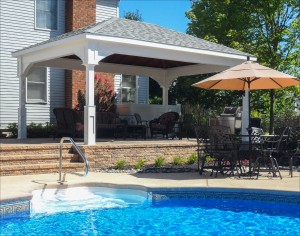 Traditionally, a ramada is designed to provide shade with a fully covered roof. Native Americans used twigs and bushes to construct some of the earliest ramadas. A ramada usually matches the style and material of your home and is an outdoor space that is designed to be an extension of the main living space. Because of its sturdy structure, it's easy to include details such as a fireplace or barbeque. Some homeowners include an outdoor kitchen and wet bar in their ramada to make it a fully featured area for entertaining.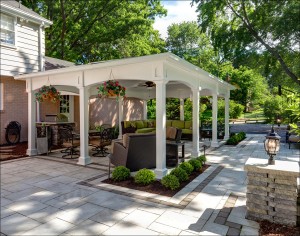 A ramada provides superior protection from the weather since it will not only provide shade from the hot sun, but will also shield its occupants from rain, hail or snow. Ramadas were originally found in hot weather areas such as Florida or the Southwest but are now found in backyards from Maine to Oregon.  A ramada not only provides protection from the weather, it also provides a dramatic focal point for your back yard.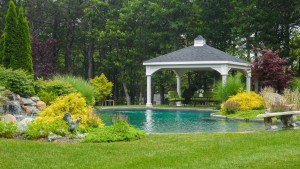 When it comes to style, the sky's the limit when it comes to ramadas from Fifthroom.com You can choose from single, double, gable and long gable designs and you can totally customize your ramada to coordinate with the look of your home. Material-wise we have ramadas made of red or rough-cut cedar, treated pine or vinyl, all beautiful, durable and rot and decay resistant. Our "Design Wizard" is easy to use and allows you to choose the roof, the building material and the size you want.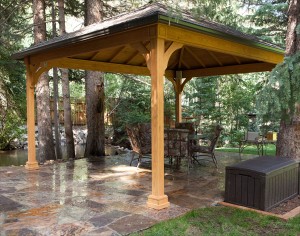 So, when you're ready for your "room with a view" check out all of your options here!