Father's Day. Once a year. A chance to buy Dad that brand new shiny silk tie he has always wanted! No, strike that. No Dad wants a tie. Ties remind him of work and the boss and commuting and the 50+ hour work week. No, what you need to do this year is to surprise Dad with something that means fun and relaxation and lets him totally forget about work! Let's look at five great options for Father's Day 2018!
#1 –– A Garden Shed/Man Cave! It's become clear that in today's busy world both men and women really, really need a place of their own where they can unwind and "chill." Man caves have been around for quite a while now but the latest "must have" backyard accoutrement is a garden shed converted into a perfect private space.   Garden sheds can be transformed into workshops, hobby rooms, makeshift sports bars (complete with super-size TVs) or simply become a quiet space where Dad can rest and relax. You'll score big points with this gift for Dad.
#2 — A Hammock! Hammocks serve but one purpose in life — to let Dad chill out and nap the afternoon away, blissfully unaware that he has a huge list of chores! (But those can wait until next week.) At Fifthroom.com, we have a wide selection of different style hammocks. Some can be hung between trees or on one of our solid hammock stands. And your choice of materials is wide as well, from recycled, post-consumer rope to our Geneva Quilted Hammock, which is two soft layers of comfy fabric. But wait! The ultimate "Dad Hammock" is the Clarion Cradle Chair, a modern twist on the classic hammock that can be hung off your pickup or SUV's trailer hitch and is perfect for tailgating!
#3 — Fun and Games. Is Dad the first one to suggest a competition? Anything from Charades to Touch Football? Then one of Fifthroom.com's great outdoor games will make the perfect gift this Father's Day. We've got either 6 or 8 player croquet sets plus cornhole games and quoit. Just what you need to get the party started this Father's Day.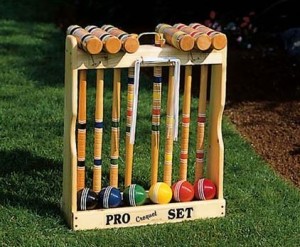 Next up, a Tiki Bar! No need to buy plane tickets for Punta Cana or Barbados, when you can have your own Tiki Bar in the backyard! So start stocking the bar, put the beer on ice and ask the neighbors over! Our Tiki Bars come in either handsome treated pine or in low-maintenance vinyl and both allow you to add matching stools and optional lighting packages, so you can linger long after dark! Bonus points: No need for a designated driver!
#5 —  Next on our 2018 list of alt-Father's Day gifts is a fire pit. So, OK, it might take a wee bit of work for Dad to light the fire, but after that, a fire pit is pure joy. And science has proven that watching firelight actually lowers your blood pressure! One of our absolute favs is this remarkable "Third Rock," model, where you can actually set the world on fire. Or opt for something more traditional like our Manta Ray model that's the perfect combination of form and function!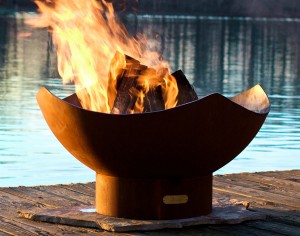 Our 6th tip is a natural one; the classic Adirondack chair, which, when you think about it, is almost like an outdoor version of your dad's favorite man cave recliner! The gentle slope of the back and the wide arms have made these chairs classics for over a hundred years and we've got them in multiple styles and materials. Find the one that you think matches your dad and tell him to sit down and put his feet up! Speaking of which . . .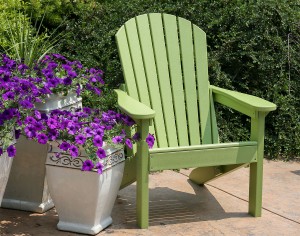 #7  —  Fifthroom "Dad Relaxer" is a footstool. Let's face it, sitting is way better if you can stretch out and get your legs totally elevated. We have footstools that'll match his Adirondack chair or just about any other style outdoor chair in wicker, cedar, teak, cushioned or polywood.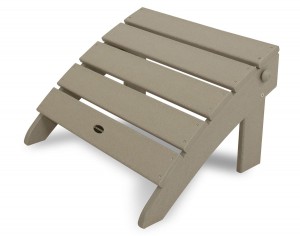 #8 —  OK, What Dad Doesn't Love To Grill? Really, you know he does, but it's been YEARS since he replaced that ancient grill he's been using since you were in 6th grade. (Which was two long decades ago!) So indulge him with one of our top-of-the-line grills, the Bi-Level Park Grill with Utility Shelf.   With a four level adjustable cooking grate, fully functional shelf and 1008 square inches of cooking space, your Dad will be in his glory at family cookouts for many summers to come.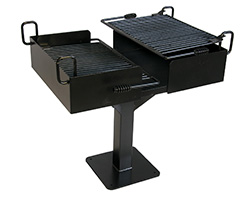 So, repeat after me; No More Ties, No More Ties . . .