Food, fireworks and fun are common to July 4th celebrations, whether you celebrate at home or go on the road. Independence Day is a big, big deal in both small towns and major cities for a couple of reasons. First, Americans are very, very proud of their history of breaking away from the "mother country" to form an independent nation; and secondly, July 4th is simply the biggest, splashiest holiday of the summer. As a result, all across the USA, Americans are totally ready to "party on." If you're up for a bit of travel, July 4th can be an incredibly special experience in many American cities.
1. Boston. Boston is, of course, a natural choice because of its Revolutionary War history and heritage. Apparently a lot of people agree and Boston receives almost 3 million visitors to their annual July 4th Birthday Bash. Boston's Harborfest celebration begins June 30 in Faneuil Hall Marketplace and just some of the events include: Revolutionary War reenactments, cruises, speeches, music and walking tours at several venues including: the Freedom Trail, the Old North Church, Boston Common, King's Chapel, historic Downtown Boston and along the waterfront. Fireworks go off along the Charles River Esplande starting at 8 PM on July 4.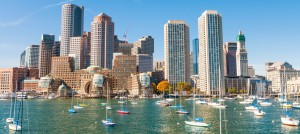 2. San Diego. If you prefer spending July 4th on the west coast, you'll find that San Diego, which is home to thousands and thousands of service persons, veterans and their families, representing every branch of the service celebrates Independence Day with a whole lot of enthusiasm!  Mild summer weather, beautiful beaches and a wide variety of entertainment options, bring tourists and locals alike to the area in early July. Check out the "Big Boom" when fireworks are simultaneously launched from four barges in San Diego's North Bay. A favorite (and quickly sold out) viewing location for the show is from the USS Midway flight deck but you can also get good views of the fireworks from a variety of other locations including: Harbor Island, Shelter Island and Seaport Village.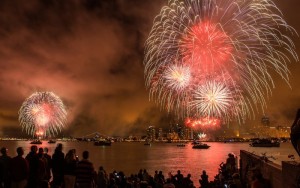 3. Minneapolis. After a long, cold winter, Minnesotans just love a good excuse for a spectacular summer celebration. Each year, starting on July 3 and continuing through July 4th night, over 75,000 tourists and locals descend upon the downtown riverfront for the Red, White and Boom festivities. There's live music, outdoor movies, an Independence Day marathon and 5k, picnics, families activities and, of course, fireworks. Lake Calhoun Beach is a favorite spot to watch the fireworks as well as Stone Arch Bridge, Gold Medal Park or one of Minneapolis' trendy rooftop restaurants.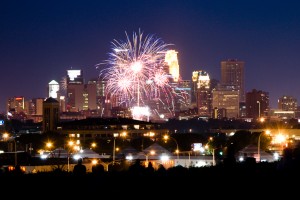 4. Washington, DC. At least once in your life you absolutely must spend the Independence Day holiday in the nation's capital. The entire city turns into one huge block party. One of the main attractions is the National Independence Day Parade filled with bands, floats and celebrities. It starts at 11:30 AM and runs along Constitution Avenue from 7th to 17th Avenue. This parade is a holiday tradition and attracts millions of locals and tourists each year. Another major event is "A Capitol Fourth" which is held on the West Lawn of the Capitol Building. This concert features top musicians from around the country, starts at 6 PM and, best of all, it's free! End your Washington, DC July 4th with the mother of all fireworks shows, the National Mall Fireworks. Fireworks are launched from the Lincoln Memorial Reflecting Pool and can be seen all across the district and across the river in Virginia.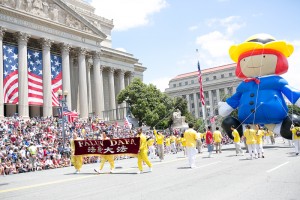 Break out of the stay-at-home mold this 4th of July and check out how other cities celebrate the happiest holiday of the summer.