Great outdoor dining furniture brings comfort and function to your outdoor space. With a great table and easy-to-use, comfortable chairs, a basic patio or deck is transformed into a delightful dining destination. Outfit an outdoor space with the dining set of your dreams and your deck or patio will quickly become your dining area of choice for many months to come. Because, as we all know, It's just so much more fun to eat outside!
Choosing the right outdoor dining set for your specific needs and wants takes some careful planning. Here are a few tips to help you pick the set that's perfect for you — an outdoor dining set that you will enjoy for years to come.
1. Make A List! Start by thinking about how you and your family typically dine in the good weather months. Do you often entertain large groups of friends and family? Or do you prefer casual pool-side dining? Is your dining space large or small? Making a list of the types of things you want to do in the space and how you will ultimately use it will help you to decide what kind of dining set is best for you.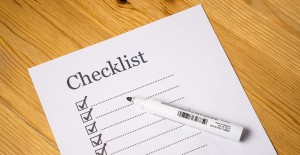 2. Invest In Quality. As the saying goes, "You get what you pay for." And while it may be momentarily tempting to pick up an outdoor dining set at a cheap discounter, you will come to regret that decision sooner rather than later. Low-grade wood or wicker pieces quickly discolor and fall apart; poorly made synthetics become brittle and lose their color. Shop with care, ask questions and check consumer reviews before making this important purchase.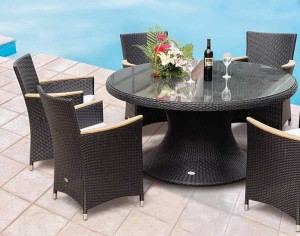 3. Comfort Is Key. When you purchase quality outdoor dining furniture, you have it for a long, long time. And, if you regularly dine outside throughout the good weather months, you'll want family and friends to have dining chairs which are as comfortable as the ones they are used to inside.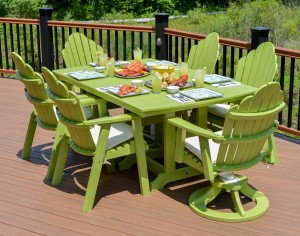 4. Go For Easy-Care. When you purchase a well-made, easy-care outdoor dining set, you can spend your time enjoying it, not maintaining it. And, you don't have to sacrifice beauty or style either. Quality wood, wicker, metal and synthetic furniture can take whatever nature throws at them and look amazing year in and year out.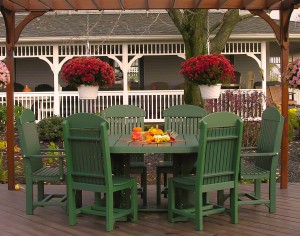 5. Think About Your Space. Do you have a smaller space to work with but still want something unique? Then, consider a bar or bistro set! These work wonderfully on small decks, patios or apartment balconies. One customer favorite is this 40" Oak Bar Table which is available with optional stools. Made from genuine oak and finished to perfection, it's just the right size for sharing drinks or dinner with a special someone! Or, would you just love a bright and beautiful small-space dining set? Then, Fifthroom's 3 Piece Garden Classic Bar Set is the one for you! Maintenance-free and made in the USA, this set is available in 21 gorgeous colors. If you have lots of space to work with, and love the timeless look of teak, Fifthroom's Teak Drop Leaf Table and Full Weave Chair Set could be the dining set of your dreams! This set includes 1 table, 6 chairs and 6 cushions. The table folds down for easy storage and can also be used as a half-circle buffet. Want to make a style statement with your outdoor dining set? Our Polywood European Dining Set with 6 Arm Chairs is a show-stopper. This set (which comes in 13 striking colors!) is not only incredibly glamorous but also makes a positive environmental statement by using recycled plastic in its construction.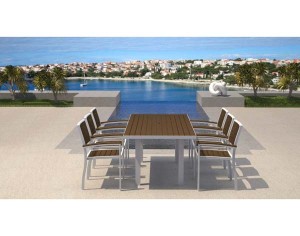 6. Get What You Love. It always makes sense to buy what you absolutely love. Furniture that fits your style, your life and also makes you smile every time you look at it makes all the sense in the world. Whatever you need to create an outdoor dining oasis, Fifthroom.com is ready to help.