Commercials. Half-time shows. Oh, and a little football, too. If you've been drafted to host this year's Super Bowl Party, you don't want to fumble. So, here are a few tips to make you a super host on February 2.
One. Food. It's (nearly) all about the food. So make sure to have snacks "at the ready" in a convenient spot (like the coffee table.) Think popular, easy-to-pick-up foods like sliders, pizza, chips and wings. It's great to have some healthier stuff, like an assortment of veggies, too.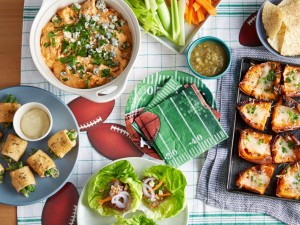 Two. Drinks. When it's not about the food, it's about the beer (and wine and soft drinks.) Stock up on an assortment of drinks to keep everyone happy and KEEP IT COLD! If you've got a small refrigerator in your family room, great. Or fill a few large containers with lots of ice and place in strategic spots.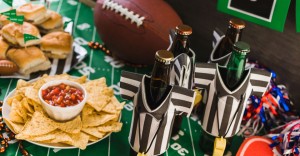 Three. Seating. Seating is almost as important as food and drink. So, make sure to have plenty of comfy spots in front of the TV. If you don't have quite enough for your party gang, get creative. Pull the lawn chairs out of the garage and set them up. Scatter throw pillows and blankets around the floor for your "floor sitters."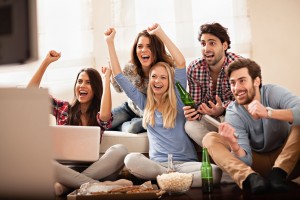 Four. Disposables. Who wants to worry about cleaning up the kitchen or loading the dishwasher when there's so much to watch on TV? And, it's not just football — there are half-time wardrobe "malfunctions" and cute puppies to see as well. Disposable plates and cutlery are what you need but make sure to purchase sturdy stuff. Make sure your plates can hold food without bending or leaking.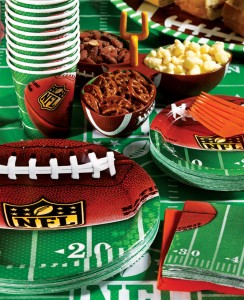 Five. Decorations. Hang streamers, banners and, yes, even inflatable footballs around the party room. Let the competing teams' colors dominate your color scheme UNLESS your home team is playing in the Super Bowl. In that case, go wild with home team decor!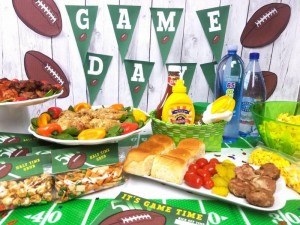 Six. Relax. Don't forget to get in a party mood yourself. You've done your planning and it's time to kick back (or kick off) and enjoy your guests and the game.
Are you ready for some (super) football?