Hammocks are the quintessential symbol of summertime. We picture ourselves sitting out in the sun, gently swaying back and forth while enjoying a good book or perhaps, even a nap. But hammocks have recently been embraced by interior designers as a chic new way to make a hip design statement. You can now find hammocks in the trendiest workspaces and cafes so why not incorporate this "new look"into your home?
Our Rochester Rope Hammock is perfect for adding a splash of color to any room in your house. Made of sturdy olefin rope, this hammock is a simple classic and comes in 14 beautiful colors from royal purple to sunny yellow and every color in between.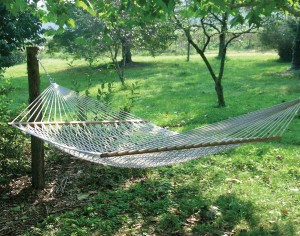 The Envirope Hammock. This completely comfortable rope hammock will hang on a hammock stand to swing you away to a peaceful place. Plus, you can feel good about this product since the Envirope design uses 100% recycled polyester fiber derived from old soda bottles! This hammock is crafted to be as soft as natural cotton so you can do good and feel good, too.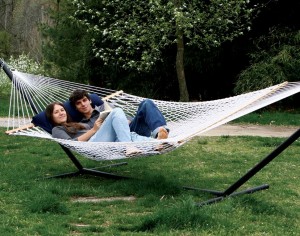 If you're in search of an ideal spot where you can escape your cares, just point yourself in the direction of our Geneva Quilted Hammock. Made with two layers of soft, quilted fabric and poly-fill fiber, this hammock is available in 9 wonderful colors to coordinate in any room.
The Stratford Silkspun Rope Hammock is amazing! Made from silkspun rope, this hammock combines the strength and durability with the softness and beauty of silk. Easy to clean and available in three colors, the Stratford Hammock will quickly become your favorite place to relax.
Hammocks are an up and coming trend in home decor and how great is it that you no longer need to wait until summer to while a few hours away in a comfy hammock!