Red Cedar
Western Red Cedar is, above all, a wood of exceptional beauty. In its natural unfinished state, it has a richly textured tactile grain combined with a palette of warm mellow tones, ranging from light amber to deep honey brown. No man-made material can duplicate the depth of cedar's natural luster. It also remains subtly aromatic, and the characteristic fragrance of cedar adds another dimension to its universal appeal.
Western Red Cedar contains natural oils that act as preservatives to help the wood resist insect attack, termites and decay. Cedar is also a dimensionally stable wood that lies flat and stays straight. Properly finished and maintained, Western Red Cedar ages gracefully and endures for many years. If left unstained/unsealed, Western Red Cedar will weather to a silver/gray patina look and will maintain a very smooth texture.
Treated Pine 
Treated Pine Pergolas are made of #1 Grade Southern Yellow Pine that has been pressure treated to resist decay and insect damage. As with all of our treated wood products, the wood is "KDAT" (kiln dried after treatment) to make sure it stays flat and does not bow or twist. The process also limits checking (small hairline cracks that will appear on unfinished wood when the surface dries over time).
We highly suggest that you seal the wood regularly, every one or two years depending on where you live, to maintain its appearance. But if you prefer a more rustic look, you can allow it to gray and still keep the protection from the elements. Treated Pine can also be stained or painted. Most store-bought treated lumber cannot be painted for up to a year after purchasing, but since KDAT is drier than most store-bought treated lumber, you can paint it immediately.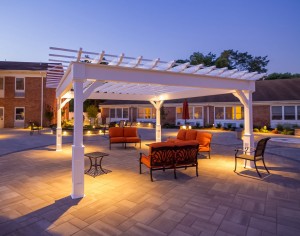 Vinyl
Vinyl is not a natural substance, but is a synthetic man-made material. It is a type of plastic that is made from ethylene (found in crude oil) and chlorine (found in regular salt). When processed, these substances are combined to form Polyvinyl Chloride (PVC) resin, or Vinyl as it is commonly referred to. Vinyl is an incredibly eco-friendly material both because it is easily recycled, but also because it has a very long life span that eliminates the need for constant replacement.
Our Vinyl posts feature a Treated Yellow Pine core, covered in a heavy-duty vinyl sleeve. This gives the vinyl benefits of no maintenance, no painting, and no staining, all while retaining the strength of our Treated Pine.
White Cedar
White cedar is naturally rot-resistant and insect-proof. No finishing product is needed for the sole purpose of preservation. When left in its natural state, cedar will weather to silver-gray. If you don't want this result, we recommend finishing with a semi-transparent stain containing sunscreen. Sunscreens are necessary to help prevent ultraviolet rays from breaking down color.
Rough Cut Cedar
Western Red Cedar is revered for its lustrous tones and subtle cedar fragrance. The Rough Cut style ensures a rustic look that remains true to nature. Rough Cut refers to lumber that has not been surfaced making for a coarse, bulkier finished product.
Heartwood oils, naturally occurring in red cedar, help it resist insect damage and decay. Western red cedar lies flat and stays straight because it is also resistant to warping, The simple application of stain/sealer will keep cedar looking new for years. If left unstained/unsealed, the cedar will weather to a rich silver gray patina.
Fifthroom.com offers these and other #1 grade materials for all their outdoor structures. The Award Winning Custom Design Wizard makes it easy to create a custom structure. In just a few simple steps, you can select type of material, custom size, stain and hardware options, and additional add-ons. Get started today by clicking 👉 here