Whether you have a porch, patio, deck or simply an amazing backyard, you want to create a comfortable outdoor haven in that space for your family and friends. And, so do we. That's why we established Fifthroom.com — to help people who absolutely love their homes make them even better. We make it our business to offer unique products and exemplary customer service to help you make your outdoor space the very best it can be. Here are just a few "Fifthroom Advantages."
Quantity. If you want it, we've got it. Really! From porch swings to picnic tables, from garden bridges to bistro sets, Fifthroom.com has got you covered with literally thousands of beautiful, durable products that will help you to make your outdoor space as amazing as the rest of your home. 
Many of our products are Fifthroom.com exclusive original designs, which you won't find anywhere else! The bottom line is this; if you are starting with a blank slate, you can pretty much get every outdoor living product in one place. For instance, let's start with your plain old lawn, then add a beautiful pergola, then maybe an arbor as a delightful entranceway to your new outdoor space, then a dining set with table and chairs to enhance your entertaining under the pergola, then a bar set to mix things up, a fire pit for those cool nights and finally, protective covers for all of those items — to help protect for years to come. And that's just a sample. It's all here. Browse our site and let your imagination guide you!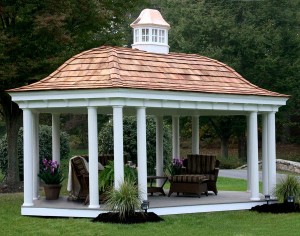 Quality. From the hottest sun to the fiercest storm, our products are built to withstand any kind of weather for the long haul. Most of our products are individually handcrafted and many of them are built on a made-to-order basis to ensure superior craftsmanship. Yet, we care about the environment, too. Our natural materials are harvested from sustainably managed timberlands which are certified by the Forest Stewardship Council. And, as you will discover as you peruse our website, nearly all of our products are Made In The USA.
The Design Wizard. No two homes or design styles are alike, which is why we want you to have exactly what you want and we mean EXACTLY. That's why we created The Design Wizard which allows you to completely customize outdoor structures like gazebos, pergolas, ramadas, pool houses, cabanas and garden bridges. The Design Wizard is a Fifthroom.com Exclusive and using it is fast, easy and fun. In fact, it's so simple to use, it earned us the top spot in the Internet Retailers 100 Most User Friendly Websites. The Wizard allows you to pick the exact size, shape and material your product is made from and finished with. It allows you to customize the accessories like stainless steel hardware, roofing and railing types, brackets and many other details. Better yet? You can save your design online, so if you want to come back and make changes before you order; no problem! This is also great for sharing with your family or a contractor, prior to the purchase. 
Customer Service. We believe that when you call a business, someone should answer the phone! During our office hours every single call to Fifthroom is answered by a friendly person, ready to help you. Our consultants are based at our U.S. headquarters, not overseas — and they really know our product line! We stand behind our products. Every single purchase comes with a 100% guarantee. If you don't absolutely love it, we'll work tirelessly with you to make it right. While we serve customers literally all over the world, we still value each one. We treat every customer as though they're our only customer! That's the way it should be, and that's the way we do it. 
Free Shipping! As you work your way through our website you will notice something you will really, really like. We give you free shipping on literally hundreds of items from porch swings to dining sets. So when you fall in love with one of our products (and we guarantee you will) in most cases, the shipping is totally free. And, unlike some online retailers, you don't have to pay extra or join some "club" to get this perk. This one's on us! 
Check out our website at www.fifthroom.com and you'll discover how much we have to offer when you want to make your ""Fifthroom" even more amazing!