Committing to a home or backyard project can be daunting. How much time will it take? How much will it cost? Will I be able to get anything else done while I'm doing it, or will it become all-consuming?
Well, while some homeowner projects can end up eating a ton of time and money (i.e. kitchen renovations), there are some that you can crank out in as little as a Saturday afternoon, and after a few hours, you've enhanced your outdoor living space. For some ideas, here are five do-it-yourself backyard projects you can do this weekend.
Hang a chandelier in your outdoor space: This is a great project to turn your outdoor space into an outdoor living You can hang a chandelier on a porch, in a gazebo or from a pergola to add some design and elegance to the structure. Here are instructions on how to do it. You can even check out one of Fifthroom's gazebos with a beautiful chandelier on Houzz!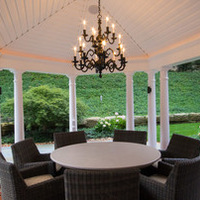 2. Add a climbing plant to your pergola for some extra shade: This is a two-step project that requires a little researching and planning on the front end. First, you should figure out the right plant based on the climate you live in, which you can learn more about here. The plant options range from vines to flowers, perennials to annuals. Once you decide the type of plant you want, plant it about one and half feet away from the pergola and secure it to the structure with garden wire to train it to grow onto the structure.
3. Build a raised garden bed: This is a good project if your soil hasn't been fruitful in the past. It requires a few building materials and if you build it close to your back patio, you can use it to easily access fruits and vegetables while cooking.
4. Add curtains to your gazebo, cabana or porch: Curtains keep the sun and rain out of your outdoor living space, and add some privacy. They're good for the hot Texas sun or rainy summer nights in the Northeast U.S. They can be easy to make, especially if you follow these no sew drop cloth curtain directions.
5. Install landscape lighting: This project can vary in difficulty, depending on the type of lights you want to install, but can be done in day. The easiest thing to do would be to get solar lights, which don't require wiring. If you'd like brighter lighting, which would require some wiring, check out this tutorial.
If you're thinking about a larger project that will take longer than a weekend, read our story about how a family from Louisiana came together to build a gazebo.