Believe it or not, research proves that food tastes better when you eat outside. Seriously. According to a recent study, your senses are actually heightened while outside and your sense of taste is no exception. And, while it's not scientifically proved, I'm sure we'll all agree that eating outdoors is just more fun! Every family has their favorite outdoor dining spot and we've got something for every family.
Patio Dining Sets. Whether you like wood or wicker, Fifthroom.com has a dining set that is sure to please. For the ultimate in dining pleasure, check out our Teak Drop Leaf Table and Full Weave Chair Set. This classic dining set includes a table, 6 chairs and pillows, too, and is on sale right now. Our elegant White Acacia Dining Table with 4 Chippendale Armchairs is also a beauty and is sure to be the site of many great meals for years to come!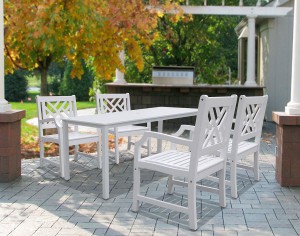 Picnic Tables. If you love a picnic, then check out our great selection of picnic tables. We've got more than 100 to choose from. In beautiful, durable red cedar, our Contoured Picnic Table with Backed Benches provides unparalleled comfort and style. Want something that's a bit different? Our easy-care Poly Lumber 5 Piece Round Picnic Table with Benches is available in 10 colors and, even better, is on sale now.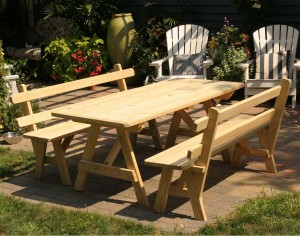 Bistro & Bar Sets. Bistro and Bar Sets are perfect for patio or poolside dining and in areas where your space is a bit limited. Our Oak Bar Table is a great place to have a late supper or share drinks with friends. Made of genuine oak, this table is finished with preservative and penetrating oil so that it will withstand the elements year in and year out. Or, add a bright spot to your deck or patio with our Poly Lumber 3 Piece Cozi-Back Counter Set. Available in 21 colors, this set provides superior comfort and is virtually maintenance free!
Before you know it, it will be time to enjoy meals with family and friends outside. Make sure you're ready to go with the perfect outdoor dining set from Fifthroom.com.